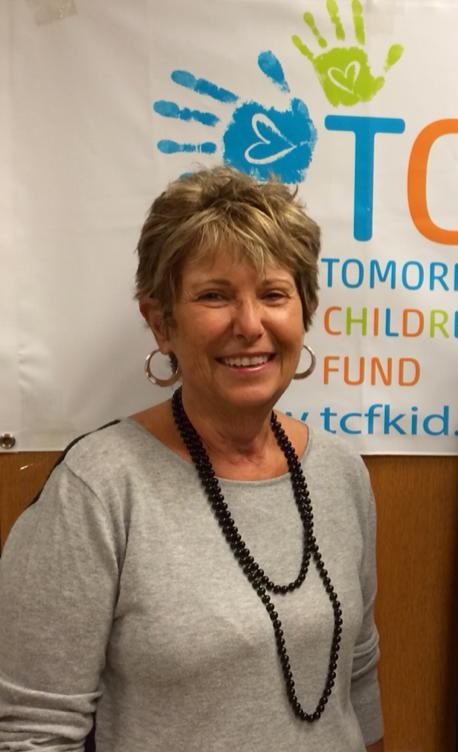 Our Angel

6/14/2016
It is with extreme sorrow the staff and board members of the Tomorrows Children's Fund share this sad news: Our beloved friend and Co-President, Vivian DiPietro passed away on Saturday, June 5th. Vivian was a truly beautiful person with a heart of gold, a friend to all and a cherished member of the TCF family for close to 30 years. Vivian's commitment to the Tomorrows Children's Fund and the kids and their families battling pediatric cancer was exceptional.
Vivian started her decades long service by volunteering each week on the pediatric oncology in-patient floor of the hospital, delivering pizza to the patients and families. While she loved spending time there, she soon realized she couldn't help but get too close to the patients. Vivian turned this love of the patients and families into a personal mission to attend and volunteer at every TCF event on the calendar, always working diligently to raise the funds that would make life brighter and a bit easier for the families. There was a 1000-watt smile and a hug as she greeted the families every year at the picnic, many sleepless nights volunteering at the Radiothon and she was always the top ticket seller at the tricky tray… these were a few examples of her passion and steadfast commitment to keep the patient and family needs above everything else.
"Vivian's tireless efforts in what we could do to help alleviate the financial stress placed on families and also find ways to make the children's wishes come true was amazing," said TCF co-president Jerry Pinkus, who worked alongside Vivian for 29 years. (Jerry and Vivian were elected as TCF co-president nearly two years ago.) "Her goal was always 'what more can TCF do to help the children and their families through these trying times.' She was a true giver," he said.
Vivian's greatest joy and achievement was her nomination of Co-president of TCF, in October, 2014. She immediately began a journey to make new contacts and help raise additional awareness of the mission of TCF, in order to impact the lives of our families. A title so deserved because of her years of dedication and devotion to the to the TCF.
"It was truly an honor to work side by side with such an amazing woman. Not only was she the person I reached out to when I needed help at an event, but she became a member of my family and without a doubt the most incredible friend any one could wish to have in their lives," says Lynn Hoffman, Executive Director of the Tomorrows Children's Fund. "We were truly blessed to have Vivian as our Champion and her tireless efforts for the children and families we support will live on forever. The World lost an incredible person and Heaven gained a precious angel."
Donations may be made in Vivian's memory to Tomorrows Children's Fund