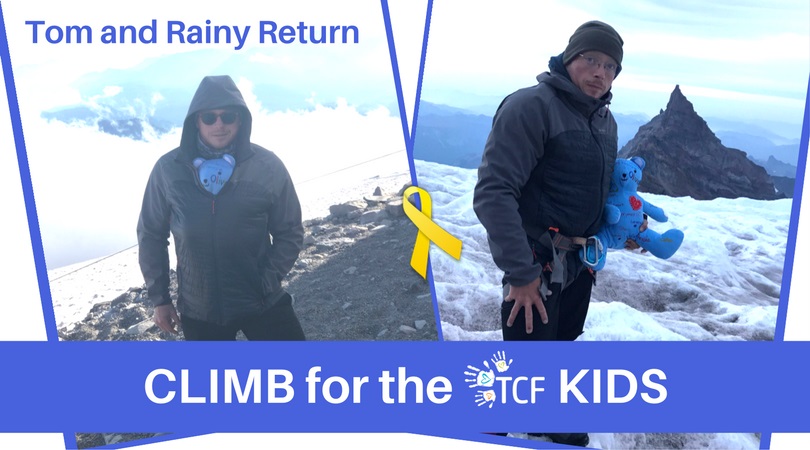 CLIMB for the KIDS

8/23/2017
CLIMB for the KIDS! Support Lyndhurst Police Officer Tom McSweeney as he raises funds for TCF's pediatric cancer patients. Tom's goal is $1 for every foot he climbs for a total of $14,411.
In the spring of 2016, Tom McSweeney, was diagnosed with stage 2B testicular cancer. He began chemotherapy in April of 2016 and graduated chemotherapy on July 1 of that year. Because of where the cancer had spread, Tom, a 10-year veteran of the Lyndhurst Police Department, required a surgery to remove the lymph nodes that surrounded his aorta. While recovering in the hospital, Tom decided that instead of focusing on what had just happened, he needed to set a goal to help him regain his physical and mental strength. And since he'd just climbed the largest emotional mountain of his life, Tom figured he'd climb a physical mountain too!
Tom began training to climb Mt. Rainier as soon as he was able, and it was during the grueling training process he started thinking about his own cancer journey and it made him wonder: "How could children that were going through the same thing handle what almost broke me?" That's when Tom got involved with the Tomorrows Children's Fund, raising money and awareness for the kids and families battling pediatric cancer.
Tom designed and created a TCF Mascot, Rainy the Bear, which he plans to take with him on the climb. Many of our TCF kiddos signed the bear with special messages to keep him going during his quest to the summit. Besides being busy training for the climb, Tom supplies our Teen Group with pizza twice a month and arranged for them to have an outing to Dave and Busters in NYC. He also, designed, hand carved a print, and painted "CLIMB FOR THE KIDS" t-shirts with our TCF kids which they promptly had him autograph!
Tom is back from his spectacular adventure and already planning for his next adventure:Help him reach his goal of raising $14,411! Donate today - Event Name CLIMB for the KIDS!